Allan's parents:
Ernest Edgar Cunneyworth / Ellen "Nellie" Catherine Sullivan
Allan was born in Toronto c. February 11, 1929.
Allanís maternal grandparents,
John Joseph Sullivan / Honour Anne Corcoran
, were Irish Catholic. Allan's
father
was Baptist and his paternal uncle,
William Victor
, was a committed
Orangeman
, so this must have made for interesting conversation around the dinner table.
As a family compromise, Allan and all his siblings were baptised Catholic and raised Protestant.
Rita's parents: William James Cowley / Florence May Kater
Rita was born c. Jun 6, 1924 at 11 Ramsey Road, Hendon, Middlesex, London, England.
| | |
| --- | --- |
| Allan attended St. Clair Avenue Public School (est. 1898?). This school was delmolished in the 1970s by a land speculator. A housing development, built many years later, now occupies the site. | |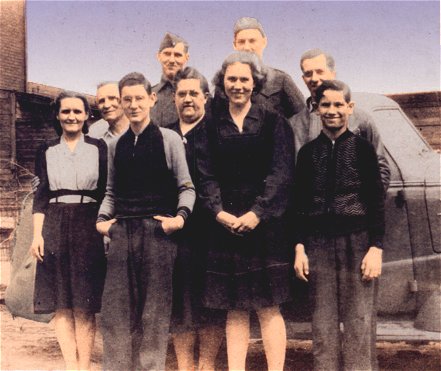 Allan's parents, Ernest and Ellen Cunneyworth, with their seven children
L-R: Edna, Ernest, Ronald, Robert, Ellen, Margaret, William, Edgar, Allan
Photo courtesy of Ronald Henry Victor Cunneyworth
Allan started work for Nash Motors in 1950. This company merged with Hudson Motors to become American Motors, which closed in 1957-58. It reopened as Rambler in Brampton (at Steeles and Kennedy). Then Renault bought Rambler, and Chrysler later bought Renault. Allan retired from Chrysler in 1990 after 30 years total with the companies. This does not include a period from the mid-50s to the mid-60s, when he worked at A.V. Roe (1954) for Fred Siddon (married to Alís cousin Lillian) in the Arrenda Engines division, and at Bell and Howe (1955-56?).
Al and Rita were married c. Aug 8, 1976, at the home of Ritaís sister Iris "Babs" Emily, 21 Burnt Meadow Way, Willowdale, Ontario.
Al and Rita first met in 1967. They lived on RR 1, Limehouse (Halton Hills) near Georgetown in 1969, with Alís mother Ellen. In 1974? They moved to Acton, then Ballinafad, followed by Brampton all in the same area of southwestern Ontario. They moved to Oxford Station in 1990, near Kempville, then back to Brampton in 1991.
Al had a stroke in January, 2000. In March, 2001 he was moved to a nursing home where he could receive the special care he required.
Al died February ??, 2006.
Rita passed away soon after, on March 15, 2006.
Ritaís obituary published in the Toronto Star April 5, 2006 reads:
CUNNEYWORTH, Marguerite "Rita" (nťe COWLEY) (1924-2006) Passed away suddenly on Wednesday, March 15, 2006 in Brampton. Predeceased by her husband Al, three weeks earlier. Also predeceased by her brothers Rolie and Bill COWLEY and sister Babs ABEL. Survived by her brother Reg COWLEY of England and sister-in-law Kathy COWLEY of Brampton. Fondly missed by nieces, nephews, grand-nieces and grand-nephews, both in Canada and England. Family and Friends will be received at the Scott Funeral Home "Brampton Chapel", 289 Main St. N., Brampton (905-451-1100) (south of Vodden St.) on Saturday, April 8, 2006 from 10:15 a.m. until time of memorial service in the Chapel at 11 a.m. For those wishing, donations may be made to the Canadian Diabetes Association, Canadian Cancer Society, Heart and Stroke Foundation or to the Lung Association.
No children.