I was born in Toronto September 6, 1950, at St. Joseph's hospital overlooking Lake Ontario, the eldest of three brothers (siblings
Allan Ronald
, November 8, 1952 - April 12, 2007, and
Robert George
, born November 19, 1964). Our family lived for the most part of my youth on or near St. Clair Avenue, at the border of York Township and the
West Toronto Junction
.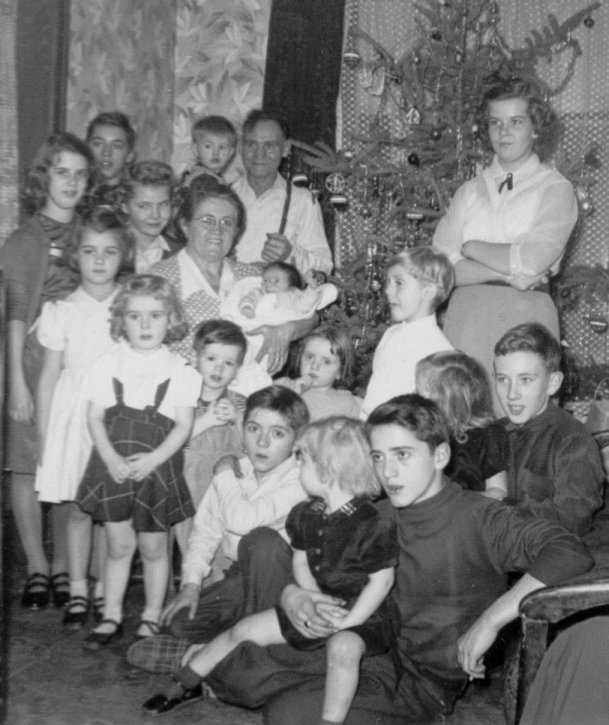 Ernest Edgar Cunneyworth and Ellen "Nellie" Catherine Sullivan with 16 of their 17 grandchildren (missing: Linda Cross)
St. Clair Avenue, Christmas, 1952
Note: The author is pictured here, clasping his hands in front of "Nana".
Photo courtesy of Ronald Henry Victor Cunneyworth
For identification of all people in this photograph,
click here
.
| | |
| --- | --- |
| "Wayne" was simply a name that my father liked. He was a big fan of westerns, and especially of actor John Wayne. My middle name Edgar was in honour of my uncle Edgar John Cunneyworth (who was, in turn, named after his father, Ernest Edgar Cunneyworth, who was named after his uncle, Ernest Edgar Eason). | |
My Cunneyworth lineage, going back in time, to the first Canadian Cunneyworth immigrants from Yorkshire, England:
Ronald Henry Victor Cunneyworth (1929-2007) / Mary Angela Oresky (1930-)
Ernest Edgar Cunneyworth (1893-1957) / Ellen "Nellie" Catherine Sullivan (1897-1970)
George William Cunneyworth (1863-1923) / Susan Ann Eason (1868-1961)
George Cunneyworth (1833?-1896) / Esther McGraw (1833-18??)
Thomas Cunneyworth (18??-18??) / Ann Reynard (1812-1892)
Warning to future genealogists: There are two contemporary Wayne Cunneyworths. We are both descended from
Thomas Cunneyworth (18??-18??) / Ann Reynard (1812-1892)
. We were born only 2 years apart (and, as my elder, he rightfully claims the title of "Wayne Cunneyworth The First"). My namesake was born and raised in Ottawa; I have spent many work related visits of months-at-a-time in Ottawa at various temporary residences since 1982. Before we had met, Wayne The First once showed up at a car rental counter at the Ottawa airport, only to hear that I had just left a few minutes earlier with his rental car. I provide this declaration in the hope of sparing Wayne The First from any embarassment due to confusion with the author of this web site.
In
Toronto
I attended St. Clair Avenue Public School, Annette Street Junior High, George Harvey Secondary School on Keele Street, and then spent one year (1969-70) at York University. I moved from Toronto to Winnipeg in 1970 to complete my education at the University of Manitoba (B.Sc. 1973, M.Sc. 1974, both in Computer Science).
| | |
| --- | --- |
| | St. Clair Avenue Public School (est. 1896?) was delmolished in the 1970s by a land speculator. A housing development, built many years later, now occupies the site. |
Wayne Edgar Cunneyworth - December 1970
University College Residence, University of Manitoba

My first year away from my Toronto home. I had the moustache since I was about 17, but in 1970 I started to let my hair grow. I saw baldness in my future, so I decided to let my hair get a bit shaggy while I still had it.

University College Residence
6th floor, 1972
University of Manitoba

The hair got longer as my hippy days blossomed. Can you find me in the crowd?

Our wedding day
(Yes, that's really us).

Michèle Barnabé (May 5, 1952 - Jan 23, 2004) and I met in October, 1972 in the computer science graduate studies room at the University of Manitoba. After a wild, intense romance, we were married in Winnipeg February 10, 1973. Best man: Mark Kon Shing Mak; Maid of Honour: Josie Y. L. Lau
Michèle's parents: Léo Barnabé / Denise Côté
Hong Kong junks, 1974

After we finished our university studies, we embarked on a sub-economy class circumnavigation of the planet in 1974-1975. We left Winnipeg in a drive-away car, bound for Vancouver, with 2 one-way tickets to Hong Kong and $3000 Canadian in cash. We returned to Winnipeg 6 months later, in another drive-away car from Toronto, tired and broke. But we did it.

Sydney Harbour, Opera House and Harbour Bridge

From Hong Kong we flew to Syndey, NSW, via Manila.

Wayne about to go scuba diving


Contemporary divers may notice the equipment was pretty basic - I had no buoyancy compensator, no alternate air source and no gauges. At my more advanced age now, I'm more acutely aware of my mortality.

Although I had taken scuba courses and done my written exams at the University of Manitoba in Canada, I never did my open water dive for my NAUI certification. My first open water dive was in Australia - in an underwater cave. My second one was a night dive, watching sharks swim through my flashlight beam. By the time I had my third dive - in open water during the day - I was feeling pretty comfortable. (Thanks for the great times, scuba buddy Keir!)

The author as Deputy Santa Claus with Norm Black (age 4)
Farmers Department Store
Penrith, NSW,
Australia, Dec. 1974

The manager told me I was the best department store Santa Claus they ever had. (I needed the job to help buy our tickets back to Canada).
The author and Michèle hitch-hiking in Queensland, 1975
After we earned enough money to buy tickets most of the way home, we took a month to travel the eastern coast - cheaply, of course. These photos were taken leaving Shute Harbour, Queensland, February, 1975. Note the fins for those spontaneous snorkeling opportunities.
A friendly street vendor in Bangkok, 1975

We spent One Night in Bangkok, making the Murray Head song by the same name particularly meaningful to me ever since.

Lakshmi Narayan Temple, Delhi

I thoroughly enjoyed Delhi - New and Old. The architecture, the sights, the sounds, the smells, the overwhelming crowds, the yin and yang of beauty and horror as seen through such naive Western eyes as mine. I hope never to forget the powerful lessons that I learned there in my crash course, "I Know Nothing 101".

Snake charmers in Delhi, 1975

Humayun's Tomb, Delhi
The author hard at work
Amoco Petroleum
Calgary, Alberta, 1979

After our round-the-world travels, we moved to Calgary in 1975, where Michèle and I both found work as computer programmers.
Michèle at home, 24 St. SW
Calgary, Alberta, 1979

In 1979, Michèle and I ended our marriage amicably. She later remarried Robert Mongeau, originally from Florida (of French-Canadian descent) and moved from Calgary to Winnipeg, then to Stone Mountain, Georgia, USA. Bob died in September, 2003 and Michèle passed away January 23, 2004 after a valiant battle with cancer.
During the summer of 1980 I discovered the remote Monashee Mountain community of
Cherryville, BC
and bought some raw land on the side of Cherry Ridge. For the next few years I frequently made the seven-hour drive through the Rockies to build my log cabin as a weekend retreat.
Restless in Calgary by September of 1981, I left for 9 months of new solo travels across North America, Europe and North Africa. I visited England, Scotland, Denmark, Sweden, France, Switzerland, Italy, Tunisia, Algeria, Morocco, Spain and Belgium. (In later years I returned to Europe many times, adding Holland and Germany to my list of fine memories).
On the road, hitch-hiking in the Sahara, Tunisia, January, 1982

In Tunisia, I travelled with a charming French woman, Bernadette Boyard, whom I met in Italy. This photo (right) shows the actual road that we were hitch-hiking on as we entered the Sahara Desert.
The Great Dunes of Algeria
I continued my travels west into Algeria alone, while Bernadette headed south across the desert to West Africa. Sand dunes are not everywhere, but this part of the Sahara was definitely like being in a French Foreign Legion film!
| | | |
| --- | --- | --- |
| | The souk (market) and central mosque area in the picturesque town of Ghardaïa, Algeria | |
The author in Chellala Dahrania, Algeria, January, 1982

Hitch-hiking west toward Morocco, I got dropped off at a junction in the desert, 100 Km from the nearest oasis, with a single lane of asphalt radiating in three directions to the horizon. I had a wine skin full of water, half a loaf of bread and six oranges with me, so I figured I was good for a couple of days. In less than half an hour, a Toyota truck appeared and three Arab men took me to their village, Chellala Dahrania, for a night of story-telling and learning (again) how little I know about my own planet.
Lakbir's family and Ute (2nd from right)
Morocco, February, 1982

This hitch-hiker spent 18 days with German travelers, Sigi and Ute, driving through Morocco, Spain and France in a Mercedes flatbed truck and camper. We stayed with "Lakbir" and his family. We learned a lot about Moroccan police interrogation techniques while in their village - not first-hand, fortunately!



Classic Moroccan highway sign

Kadul Elomri and the author

Sigi and Ute introduced me to their friend, Kadul, a guard for Hassan II, the King of Morocco. Kadul was a very gracious host.
I returned to Canada the following spring, 1982, once again broke and in need of work. Soon after I arrived, I began a rewarding 16 year stint as the western representative of software company
Data Kinetics Ltd.
, based in Ottawa. My duties as a systems consultant and instructor for various software systems took me to many client sites in North America and Europe and enriched my frequent flyer programs.
In October, 1983 I said goodbye to the city and bought my neighbours' house in Cherryville, BC - my permanent residence to this day. Since I did very little work in Calgary and always had to travel to faraway clients anyway, I thought I should live where I felt more at home: in Canada's fabled "Lotusland". It was in Cherryville that I became one of the early telecommuters. Long before the Internet made telework so convenient, I was dialing in directly to our Ottawa office using my new PC. Sharing a rural 4-party telephone line, I had to restrict my modem use to late hours of the night, but it worked.
From May, 1998 through October, 2000, I worked as an independent software consultant, under the name
SUMO Software Services
. ("We tackle your really big software problems"). Since October 10, 2000, I have been employed by the Government of Canada, working primarily from my home in BC. Every few months, however, I still manage to get to Ottawa for several weeks' appearance "at the office".
I was always fascinated by the Slovak language that I heard through my youth. Although my mother was born in Toronto, it was her language of communication with her parents. I never learned to speak more than a few words, unfortunately, but I became acutely aware of the advantages of a multi-lingual background.
One of my more noteworthy personal achievements came about after meeting a group of young Québecois adventurers in Calgary in the late 1970s (who remain dear friends to this day): I learned to speak passable conversational french. It's not the greatest french you will ever hear, but I have been able to communicate effectively enough. Thanks to extended times at Pépé's bar and restaurant on 17th Avenue SW, where employees and patrons alike spoke mainly french, innumerable social occasions with my supportive francophone amis and a few night courses for good measure, I began my education on a solid foundation. I should add that the old high school grammar helped a lot, to my amazement. (My ex-wife Michèle was fluently bilingual, but unfortunately I was too intimidated by her innate linguistic expertise to benefit from it at the time).
| | |
| --- | --- |
| | With world travels to various french-speaking countries, a pinch of dedication and some very memorable years in the company of one Jacqueline Jaquier during the 1980s, I learned to get by in two languages. Did I say, "memorable years" with Jacqueline? It was among the greatest times of my life. ("Don't it always seem to go that you don't know what you've got 'till it's gone" - Joni Mitchell). |
It's a challenge to maintain my increasingly tenuous facility in the language of love, but I do try. (I want to take my phrasebook Spanish to a higher level also... So many beautiful languages, so little time!)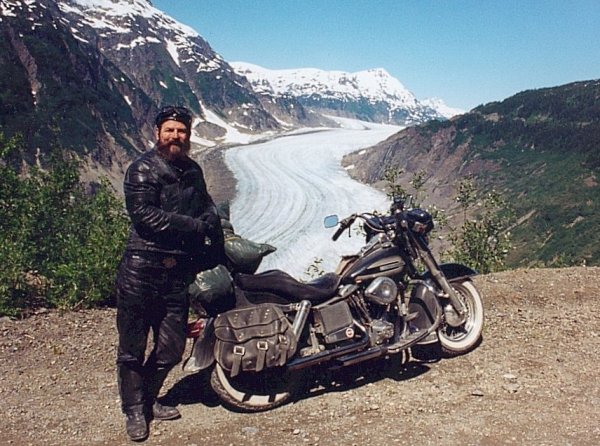 The author at Salmon Glacier, north of Hyder, Alaska, summer of 1994
(shortly before he began his genealogy research)
In the years following Jacqueline's return to France, there were a few special ladies in my life. A legacy of painful failures in this regard, however, prevented me from comitting to any live-in relationships for a long time. In short, I simply carried too much emotional baggage. (Stubbornness is not one of my finer traits). In the late 1990s, I met Linda and tried once again.
Linda and bluesman Honeyboy Edwards
Vernon, BC, April, 2004

For about 4 years, through the "turn of the century", I spent a memorable time living with Linda (Hensch) Smid, raising horses on Cherry Ridge. We separated on friendly and supportive terms. Soon after, Linda met her future husband, Kevin, and they now live on the opposite side of the valley. We continue to share our friendship and our space with deer, coyotes, bears, wolves and cougars in this beautiful community.
Left: house/home/office

Right: my log cabin (higher elevation)

Left: my horse, Chelsea

Right: On Sugar Lake with Yvonne & Richard Hensman, July 2006 (Photo by Richard)
Rob, Al and Wayne

A rare photo of the three brothers together, Acton, Ontario, 2005
When my brother Al died in 2007, just 10 weeks after our father passed away, I suspended my activities with this web site. I guess I just got burnt out with obituaries too close to home. After an absence of 4 years I started to get back at it, slowly, with a few updates in 2011. If you'll bear with me, I intend to make more progress in the future.
In August, 2008, Rob and I moved our dear mother from the outer limits of Toronto to Cherryville, BC. She was able to live happily on her own for over a year in a comfortable mobile home, just a few minutes drive from her two surviving sons. Then, in December, 2009 she moved to
Coldstream Meadows retirement community
in the suburbs of Vernon, BC, a bit farther from her children but still within easy reach for our regular visits.
Since February, 2010, I have been spending some winter vacation time in the Yucatan, Mexico and neighbouring Belize, exploring the area from a home base in Tulum, on the appropriately named Mayan Riviera. Not surprisingly, the nearby waters of local cenotes and the second longest barrier reef in the world motivated me to refresh my scuba diving skills. Back in BC, I took a Scuba Schools International (SSI) certification course in July, 2011, from
Innerspace Watersports
. The course wrapped up with four open water dives in Okanagan Lake at Ellison Park. This was a much more sophisticated learning experience than my first time around, so long ago. The essentials were the same, of course, but the equipment and the course materials are far more advanced now. The final personal test came in February, 2012, in the Caribbean depths of Belize with my first two dives in sea water since the old Australia days. Now I'm more confident, relaxed and ready to improve my scuba skills, at home and abroad, at a leisurely pace.
Wayne with SSI instructor Joel Poggemiller

2011-07-24 at Ellison Park, Okanagan Lake, BC
| | |
| --- | --- |
| | If you're an old friend, a relative doing family history research - or just someone with a few common interests, feel free to email me and say hello anytime. |
And life goes on...