Railways of Ontario
The Ontario, Simcoe and Huron Union Railway, opened in 1853, was the first railway to operate between Toronto and another community, Machell's Corners (now Aurora). The "Toronto", built at the foundry of James Good, north of Queen St. and east of Yonge, was the first steam locomotive in Ontario.
Before long, several other small railways appeared, only to be purchased by larger interests, ultimately becoming central figures in the industrial growth of Toronto. One of these was the Grand Trunk Railway (GTR), which was a partner in the development of Union Station, near the docks. Canadian Pacific and Canadian National were two other rising stars. Closely linked to shipping on the Great Lakes, the railways soon dominated the waterfront.
In 1857, the Buffalo and Lake Huron branch of the GTR (commonly called the Buffalo and Goderich branch) had a station in Bright near Plattsville, Ontario, known as the Plattsville station. Not far away, the Credit Valley had a "flag" station (meaning prospective customers could flag down the train) on lot 1 concession 6 known locally as Blandford station. It's possible that some members of the Cunneyworth and Davis families lived in this area.
From the earliest times in Canada, many members of the Cunneyworth family worked for various railway companies of the day. In the 1871 census, for example, a
John "Cunniworth"
is identified as a railway employee in Toronto.
William Cunneyworth
is associated with Ontario railways in a number of official records:
He is listed in LDS records as a carpenter and "car repairer". William's occupation is listed as carpenter in daughter
Mary Elizabeth's VS birth record
. It's likely that the cars William was repairing during this period were railway cars. His occupation is also listed as car repairer when daughter
Charlotte's birth
was registered as July, 1874 in Mount Forest, Ontario, and again in son
Issac's 1876 VS birth record
. William's profession was listed in daughter
Ruth Francess' VS birth record
, March, 1878 as a "railway man", living in Mount Forest, Ontario. The
1881 Ontario census
for Orangeville, Wellington Centre, lists Wm. Cunneyworth, Car Repairer. According to daughter
Isabella's July, 1881, VS birth record
, William's profession was "yardsman", living in Orangeville, Ontario.
In the early 1880s, the CPR acquired the Credit Valley Railway and the Toronto Grey and Bruce Railway, leading to Owen Sound, with a right-of-way into the east end of Union Station. What it needed was a western right-of-way to compete with its rival, the Grand Trunk Railway. The CPR chose to run a line of its subsidiary, the Ontario and Quebec Railway, across the northern edge of the city, through York Township, connecting the Bruce and Credit Valley branches to Union Station. In 1884 the CPR issued contracts for the construction of a new station, engine house and 100-seat dining room at this junction, located at the point where Dupont, Dundas and Annette Streets meet. (This station was replaced by the West Toronto station at an adjacent location in 1911, which was subsequently demolished in 1982). The area which once thrived as a junction of highways now blossomed as a major junction of railways. CPR named their original station, West Toronto Junction. The Grand Trunk (later CNR) Carlton station was nearby at the corner of Old Weston and Junction Roads. For many years the Junction area relied on railway payrolls for its economic existence.
The intersection of Tecumseth and Niagara Streets, where many Cunneyworth families lived in the 1800s, was just across the main GTR railway tracks, running east and west through the city, immediately north of Old Fort York. Descendant Cunneyworths, Kellys, Hunts and other relatives lived on or near St. Clair Avenue, at the northern edge of the "Junction" some time later, through the 1900s. That was a time when the CPR tracks would feed into the Ontario Stock Yards parallel to St. Clair, and other feeder lines from both CP and CN would run across St. Clair into the meat plants of Canada Packers.
The CPR roundhouse, constructed in 1885, was located at the corner of what is today Runnymede and St. Clair. (It was demolished in 1964 when, according to a newspaper article written in the 1990s, "the Lambton Yard was relegated to secondary status with the opening of the railway's Agincourt Yard". The site was subsequently replaced by a CP Express distribution warehouse).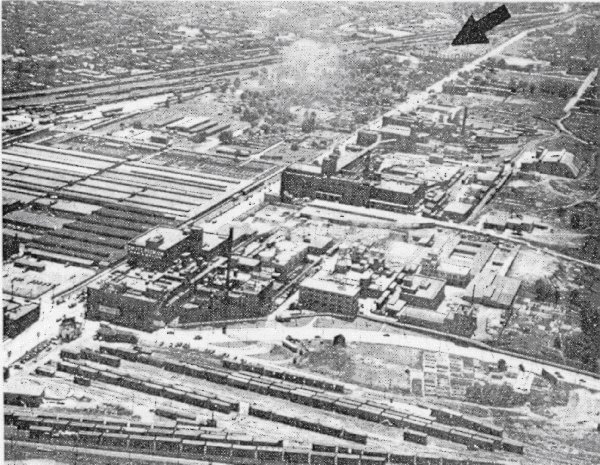 West Toronto
This 1946 aerial photograph shows St. Clair Avenue running west of Keele Street (lower left) and east of Runnymede Road (upper right). Old Weston Road is in the foreground alongside the CN railway lines. The CPR roundhouse is marked by an arrow at Runnymede and St. Clair next to the CPR lines running diagonally in the background. Canada Packers is in the center, with Swift's Premium Meats at Keele and St. Clair. The Ontario Stock Yards appear on the south side of St. Clair. Another CN line runs along the stock yard barns, more or less parallel to St. Clair. St. Clair Avenue public school is the large building just below the arrow head.
Historic St. Clair Avenue public school, built in 1896, was sold to a developer and quickly demolished in the 1970s. It wasn't until many years later that the vacant lot was replaced by townhouses.
On November 7, 1885, the "last spike" was driven in the main line of the Canadian Pacific Railway, connecting the country from sea to sea.
George William Cunneyworth
was listed as a railroad fireman the same year, when he was married in Toronto. He was still a railway fireman for the GTR (Grand Trunk Railway) in 1888, when the family lived at 564 King St. and in 1893 when they lived at 6 Turner Avenue.
John Thomas Cunneyworth
is listed as assistant [railway?] engineer at the time of his marriage in 1887 and was a fireman for the Canadian Pacific Railway when he lived in Carleton Place, Ontario in 1889.
William David Cunneyworth
worked building the Great Northern Railway in northern Ontario, and became the first Great Northern stationmaster in Pembrooke, Ont. He had also worked for the Timiskaming Northern Ontario (TNO) railway. He was identified in documents as a railway agent in Owen Sound, 1890, and again in Winchester, Ontario in 1893.
William Lyons
, husband of Margaret Ann Cunneyworth, was a baggage man for the CPR in 1896.
Isaac James "Leonard" Cunneyworth was a telegraph operator for the Toronto, Hamilton and Buffalo Railway in 1908.
Charles Sydney Jones, husband of Minnie Irene Cunneyworth, was a freight agent in Englehart, Ontario for the Timiskaming Northern Ontario (TNO) railway in the early 1900s.
West Toronto Junction
Through much of the 1800s, the western part of York Township, south of Black Creek and east of the Humber River, was known as the Humber Plains. Lots 33-40 in the Second Concession from Humber Bay and parts of lots 33-37 in the Third Concession, totaling about 2500 acres, later came to be known as West Toronto Junction.
John Scarlet put together the first large land assembly in 1817, eventually buying all the land on both sides of Dundas Highway west from its junction with the Weston "Plank" Road to what is now Jane Street, a total of 644 acres. At the time, much of the area served as a northern extension of today's High Park, a popular destination for Toronto's picnickers, hunters and tourists. He built a racecourse north of Dundas and west of Weston Road in 1836 and held races for 4 years until the course closed. In 1838 Scarlet constructed his residence, called Runnymede, on Dundas Highway. A few years later Toronto lawyer W.C. Keele took up residence along the concession road which now bears his name. Keele had the Carlton Park Race Course laid out on his property in 1857. This was the site of Canada's first Queen's Plate race June 27, 1860, now the oldest consecutive thoroughbred horse race in North America. The first Queen's Plate was won by Don Juan, a 5 year old bay gelding, owned by James and John White, ridden by Charles Littlefield.
With the building of the Credit Valley Railway and the subsequent formation of the rail junction north of the existing highway junction at Dundas and Old Weston Road, a period of intense land speculation began.
According to Allan Berlin Rice, in "The West Toronto Junction Revisited", a lawyer named Daniel Webster Clendenan was a principle founder of the village. Through the firm of Clendenan and Laws, he purchased the Carlton race course property in 1882. A year later he created Registered Plan 553, the West Toronto Junction Property, and began selling lots. By 1884, the "Junction", as it was known, had all the makings of a prominent suburban railway centre.
Two tiny villages were adjacent to the junction area: Carlton, with its Grand Trunk Railway station, and Davenport, with a station on the old Northern Railway. John Alfred Bull, a member of the widely respected Bull family, owned and operated a carriage factory and blacksmith shop on Weston Road and, in 1889, became a councilor of West Toronto Junction. There may be Cunneyworth connections to this family, through "Jack" and Bertha Bull, reported to be as "cousins" of
Ernest Edgar Cunneyworth (1893-1957)
.
In the 1890s, the "Junction" designation was officially dropped and the town was called simply West Toronto. In 1909 the town was annexed by the city of Toronto, and the names of many streets were changed to avoid duplication with established streets in the city. The western part of Davenport Road became an extension of St. Clair Avenue, Elizabeth Road was changed to Runnymede, and Louisa Street to St. John's Road. Thomas Street was renamed to Jennings Avenue, after a minister, Franklin Avenue became Ryding, after a councilor, Ontario Street became Indian Road, and many others received their modern names as well.
The Ontario Stock Yards
There is an obvious association between railways and stock yards. Where there was a railway station at the turn of the century, there were jobs in the transport and processing of livestock.
In 1903 the Union Stock Yards were opened by private investors on a 100 acre site at Keele St. and St. Clair Ave. to replace a cramped city-owned Toronto facility near Bathurst and King Streets. They were strategically located near the all-important junction of Grand Trunk (CNR) railway tracks on the north side and CPR tracks to the south. They immediately attracted a series of meat plants to adjacent sites.
Toronto's nickname of "Hogtown" can be traced to these yards.
In 1944 the Ontario government purchased the operation and renamed it the Ontario Stock Yards.
As a child living on St. Clair Ave. in the 1950s, I recall seeing the cattle crowd their way through a lane, defined on one side by our backyard fence, which directed them west from the heart of the stock yards to a crossing point facing Canada Packers and various other slaughterhouses. From there I would watch the infamous "Judas cow" lead those lumbering pastoral icons on a final absurd walk through Toronto traffic.
Ernest Edgar "Gramps" Cunneyworth worked at the stock yards after he left Gunns. "Grampa" George Oresky, my mother's father, also worked at the Ontario Stock Yards. I still have a strong image of him wielding his cane and driving cattle down the laneways. When I turned 16, he gave me my first driving lesson in a 1957 Pontiac Parisienne in the main gravel parking lot of the stock yards.
Over a period of time, the packing and feeding industry gradually shifted from Ontario to western Canada. After 90 years of operation, the Ontario Stock Yards closed forever on December 31, 1993, terminating an era of Cunneyworth employment history with it. By the end of the 1990s, all the cattle yards were gone, to be replaced by commercial centres, and the beginnings of a residential housing development.
Canada Packers
Most of the following information is derived from a 50th anniversary publication called "SHUR-GAIN - our first fifty years", by Norm Bell.
In 1854 William Davies set up one of Toronto's earlier packing houses on Front St. My father, Ron Cunneyworth, recalls another operation in a Cunneyworth neighbourhood not far away, at Tecumseth and Niagara, called Civic Abattoir. The 1870 census listed 193 packing houses in Canada, including Mathews in Lindsay, the Laing Packing Company of Montreal, and the Park, Blackwell Company and the Donald Gunn produce and provisioning business of Toronto.
Around 1887, Joe Flavelle and Donald Gunn established a partnership called Gunn and Flavelle, later Gunns Limited. In 1892 William Davies reorganized his packing operation as "Wm Davies Company", under the direction of Joe Flavelle. Then, in 1901 Joe Flavelle and William Harris of Wm Davies Company set up the Harris Abattoir Company on Strachan Rd., west of Old Fort York. Harris was president, Flavelle managing director and J. S. McLean was secretary-treasurer. In 1913 Harris Abattoir moved operations to St. Clair Ave., next to the Swift Canadian Company and Gunns Ltd.
In 1918 Mathews, Laing, and the Park, Blackwell Co. merged with Allied Packers in the USA as their subsidiary, Canadian Packing Co. Ltd.
In 1927 Harris Abattoir acquired Gunns Ltd., and followed in 1928 with the purchase of Canadian Packing Co. Ltd. from Allied Packers. Later that same year, Harris Abattoir merged with Wm Davies to become Canada Packers Ltd., under president J. S. McLean.
Through the 1920s Harris Abattoir was selling rudimentary fertilizers under the name Sur-Crop. By 1929 a section of Gunns, offering an improved product called Shur-Gain, developed into a major organization itself.
Canada Packers was eventually sold to Maple Leaf Mills, becoming Maple Leaf Foods.
Percy Heard worked as foreman in the cattle yards at Gunns on St. Clair. He was soon joined by Ernest Edgar "Gramps" Cunneyworth. My father, Ronald Henry Victor Cunneyworth, worked at Canada Packers from 1944 through 1990. His brother Edgar, my mother Mary and numerous other relatives also worked there. Lil Sidon worked at both Canada Packers and Swift's Premium Meats.
The closing of the Ontario Stock Yards by 1993, and the trend toward corporate restructuring, outsourcing and downsizing finally took its toll on the company. By the end of the 1990s, the last remnants of Canada Packers' St. Clair operation were cleared for residential housing.