Allan's parents:
Ronald Henry Victor Cunneyworth / Mary Angela Oresky
Allan was born in Toronto c. November 8, 1952, at St. Joseph's hospital overlooking Lake Ontario, the second of three brothers (siblings
Wayne Edgar
, born September 6, 1950, and
Robert George
, born November 19, 1964). Our family lived for the most part of his youth along St. Clair Avenue, on the border of York Township and the
West Toronto Junction
.
His first name Allan was after Uncle Al Cunneyworth, Ronald after his father.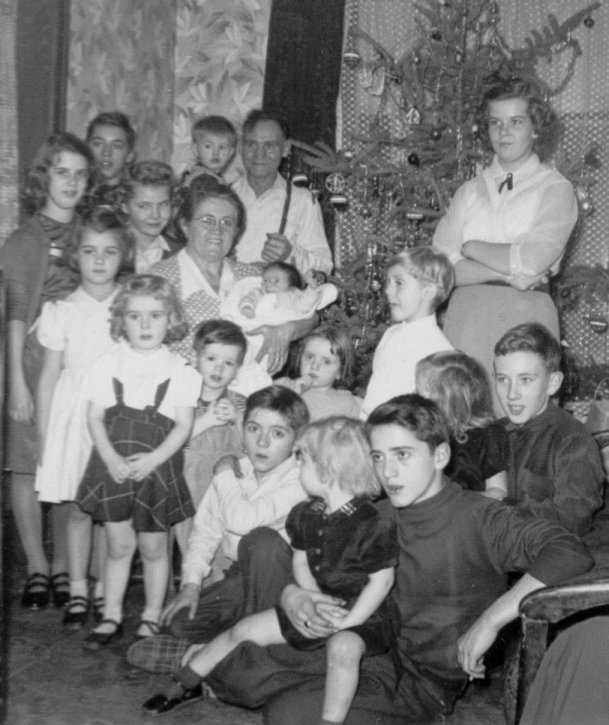 Ernest Edgar Cunneyworth and Ellen "Nellie" Catherine Sullivan with their 16 grandchildren
St. Clair Avenue, Christmas, 1952
Note: Allan is pictured here, age 1 month, in the arms of "Nana".
Photo courtesy of Ronald Henry Victor Cunneyworth
For identification of all people in this photograph,
click here
.
Allan's Cunneyworth lineage, going back in time, to the first Canadian Cunneyworth immigrants from Yorkshire, England:
Ronald Henry Victor Cunneyworth (1929-2007) / Mary Angela Oresky (1930-)
Ernest Edgar Cunneyworth (1893-1957) / Ellen "Nellie" Catherine Sullivan (1897-1970)
George William Cunneyworth (1863-1923) / Susan Ann Eason (1868-1961)
George Cunneyworth (1833?-1896) / Esther McGraw (1833-18??)
Thomas Cunneyworth (18??-18??) / Ann Reynard (1812-1892)
Janetís parents: Al Howard / Helen Porter
Janet was born c. Nov 28, 1957.
In
Toronto
Allan attended St. Clair Avenue Public School and Harwood Secondary School.
| | |
| --- | --- |
| | St. Clair Avenue Public School (est. 1896?) was delmolished in the 1970s by a land speculator. A housing development, built many years later, now occupies the site. |
Allan lead a more rebellious and colourful life than his relatively conservative older brother Wayne, but somehow he managed to survive his teenage outlaw years, to become a very responsible family man, respected by everyone who knew him. His relationship with our father was tumultuous during his youth (to say the least), but surprisingly, he followed in the old manís footsteps by taking a meat cutting course in his early 20s and then becoming a respected butcher.
Al and Jan were married c. August 27, 1977, in Acton, Ontario.
(Sources: Janet Cunneyworth, Acton Free Press, page 7, column 1).
Janet became an inspirational partner to Al, even more so at a critical recovery point in his life, and she remained so to his dying day. He was truly devoted to her.
For many years, Al and Jan operated their own business, Al and Alís Meats, in Acton, Ontario, where they lived at 70 Main St N. He bred and raced homing pigeons, and had some impressive showings in races.
| | |
| --- | --- |
| A rare photo of the three brothers together, Acton, Ontario, 2005 | |
Al passed away just 10 weeks after his father died. On April 12, 2007 while tending to his feathered friends, an aneurism on his aorta burst. He made it to the door of the house and asked Jan to call 911, then told her 3 times that he loved her. He was rushed to the hospital in an ambulance. He told the doctor in attendance that it was serious and it was his heart, but he was misdiagnosed as having gastritis, a conclusion soundly rejected by Al. Lying on the table, Al said, "Dad, I love you but Iím not ready to come". Jan was told that Al would be fine, to go home and come back in the morning, despite her misgivings. I have been told that an aneurism is not easy to diagnose. I will say that bad things happen sometimes, although Iím sure Al would insist on stronger wording. When Jan got home at 2:00 am, she called the hospital and was told Al was fine. Less than an hour later she got a call asking her to return to the hospital. When she arrived, she learned that Al was gone.
Allanís obituary reads:
Allan Ronald Cunneyworth
November 8, 1952 - April 12, 2007
Allan passed away suddenly at Georgetown Hospital Thursday, April 12, due to an aneurism, after declaring his undying love for his wife and soul-mate, Janet (Howard). Beloved father of Amanda Rae [...] and his very special daughter Amber-Lee, he is also survived by his mother, Mary Angela (Oresky) and his brothers, Wayne Edgar and Robert George (Connie Mitchell), predeceased by his father, Ronald Henry Victor.
Allanís entire existence was a journey of extremes, of action and reaction, alternating between pain and joy, abandonment and recovery, escapism and responsibility, but always a journey of adventure, love and humour. He drew amazing strength from his family and friends. Allan was proud, intelligent, cynical and genuinely thankful for all the gifts that were given to him. He sincerely tried to pay forward the blessings that he had received in his life.
As a founder with his father-in-law, Allan Howard, of Al and Alís Cheese House at Snelgrove Auction, he carried the name on to his next business, Al and Alís Meats of Acton, Ontario. His customers will long remember Alís "Beware of Mongoose" sign and heart-stopping furry Jack-in-the-Box. Itís a credit to his diplomacy skills that he was never sued.
Following in his fatherís footsteps, Al was a butcher by trade. He worked at Better Beef, now Cargill Meat Solutions, in Guelph since 2000, where his skills and his unique character won the respect, admiration and friendship of all personnel, labour and management alike. In his later years, Al renewed a childhood passion for pigeons and became one of the more colourful members of the Acton Pigeon Club, where he was known, forever and always, as Actonís best pigeon flyer. This club and his other honoured personal charity were focal points at the end of his life.
Allan and his contagious laughter will be remembered fondly by all who knew him.
Family and friends will be received at Blue Springs Funeral Home in Acton, Sunday 2:00-4:00 PM and Monday 2:00-4:00 and 7:00-9:00 PM. Funeral service will be at the Bethel Christian Reform Church Tuesday, April 17, 2007 at 2:00 PM, with interment at Fairview Cemetery, Acton. In lieu of flowers, please consider a donation to Acton Baptist Church or a charity of your choice.
... and an important note from Jan:
Thank you from Janet Cunneyworth to all her family and friends:
The greatest inheritance that Amanda Rae, Amber-Lee and I could ever have received from Allan's family and friends is the overwhelming demonstration of support that was shown in his memory. Your sympathetic company, flowers, cards, phone calls, food and free-spirited generosity will always be remembered. I want to thank each of you individually, but thatís just not possible. Many contributions were given anonymously. You asked for nothing in return, but you have my sincere gratitude. Al's passing was hard for all of us. I know that those who came to pay their last respects also went away profoundly affected by the event, in a positive and uplifting way. Apparently, Al kept giving, even after he left us. To those who knew him and welcomed him in their lives, thank you everyone.
"I can do all things through Him who strengthens me". - Philippians 4 verse 13
Janet Cunneyworth
Children:
Amanda Rae Cunneyworth
Amber-Lee Cunneyworth