Ron's parents:
Ernest Edgar Cunneyworth / Ellen "Nellie" Catherine Sullivan
Ellen was "Nana" to her grandchildren.
Ron was born in Toronto c. May 24, 1929, at the family home,
2231 St. Clair Avenue
.
Source:
Confirmation letter for Ron's birth registration
He was named after Nana's doctor. The Henry was derived from Nana's uncle Henry Kearney, and Victor after his Orangeman uncle William Victor.
Ron's maternal grandparents,
John Joseph Sullivan / Honour Anne Corcoran
, were Irish Catholic. Ron's
father
was Baptist and his paternal uncle,
William Victor
, was a committed
Orangeman
, so this must have made for interesting conversation around the dinner table.
As a family compromise, Ron and all his siblings were baptised Catholic and raised Protestant.
Mary's parents:
Juraj "George" Oresky / Maria "Mary" Ohriskova
Mary's father, George Oresky, was born Dec 16, 1901 in the Slovak village of Bezovce, Kosice.
Source: Czechoslovak passport and burial records.
George immigrated to Canada in July, 1926.
Her mother, Mary Ohriska ("Baba" to her grandchildren), was born c. Jan 17, 1902 in the Slovak village of Jencovce.
Source: Czechoslovak passport and Naturalization certificate #30850, dated July 12, 1939.
Baba arrived in Canada with their son, George (Juraj) Jr. Nov 4, 1929, 3 years after her husband.
For more information about Mary's parents, refer to the document, "Clues to the Oresky / Ohriska Family Tree: Slovak Roots", by Wayne Cunneyworth.
Mary was born at Grace Hospital in Toronto c. Aug 16, 1930, when her parents were living at 609 Keele Street.
Ron and Mary were both baptised at St. Cecilia's church on Annette St.
Source: Mary Oresky Cunneyworth
Mary had 2 brothers, George Joseph, born c. May 10, 1925 in Bezovce, Czechoslovakia (Source: George Sr.'s Naturalization certificate #29830, dated Oct 12, 1932) and John, the youngest, born at the family home, 609 Keele St. in Toronto c. May 3, 1934.
For more information about Mary's brothers, refer to the document, "Clues to the Oresky / Ohriska Family Tree: Slovak Roots".
| | |
| --- | --- |
| Ron attended St. Clair Avenue Public School (est. 1898?). This school was delmolished in the 1970s by a land speculator. A housing development, built many years later, now occupies the site. | |
Mary spoke only Slovak until she started her education at St. Rita's school on Edwin Avenue, off Dupont (formerly Royce Avenue). As a child of immigrants, she was subjected to the standard bigotry of the times.
Mary attended St. Rita's Catholic School at the corner of Edwin Avenue and Royce Avenue and went to St. Cecilia's church with her family.
Ron, age 6, in the delivery business with his goat cart, c. 1935

This photo was taken in the alley beside the family home on St. Clair Avenue.
Note the barber shop and Canada Packers loading dock in the background.


Mary, age 5, at her Keele Street family home, c. 1935
Mary was 12 years old when her father moved with the children to their farm in the countryside near Rockwood, Ontario c. 1943. Her mother stayed in Toronto for several years to continue working for Swift's Premium Meats.
| | |
| --- | --- |
| | |
| Mary, age 15, c. 1945 | Mary, age 17? c. 1948 |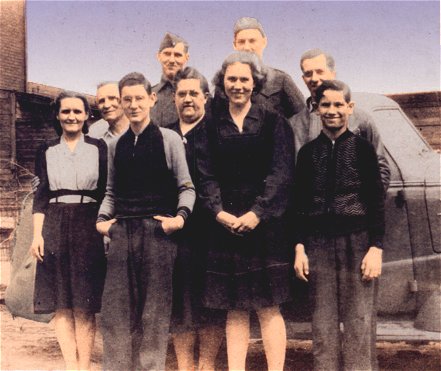 Ron's parents, Ernest and Ellen Cunneyworth, with their seven children
L-R: Edna, Ernest, Ronald, Robert, Ellen, Margaret, William, Edgar, Allan
Photo courtesy of Ronald Henry Victor Cunneyworth
During World War II, Ron received the following "airgraph" from his brother Bill, who was serving overseas: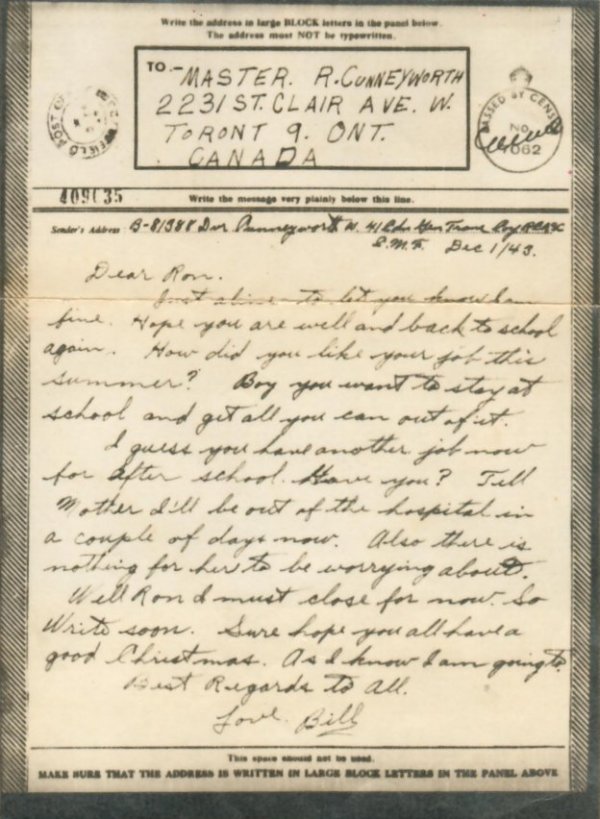 Letter to Ron from brother Bill c. 1943
Letter courtesy of Mary Angela Oresky Cunneyworth
Ron worked at Canada Packers from age 15 until his retirement at 61. My father recalled hard times as a teenager. His mother Ellen collected his pay cheque every week from
Canada Packers
, as his contribution to the family finances. (He managed to keep $5.00 for himself). Other children and many other relatives and friends also worked at Canada Packers, across from the family residence on St. Clair Avenue. The histories of
Canada Packers, Ontario stockyards and the railways
are cornerstone components in the development of
West Toronto Junction
and its people, including both my father's and my mother's families.
They weren't all hard times, of course. My father sometimes got to indulge his passion for horses.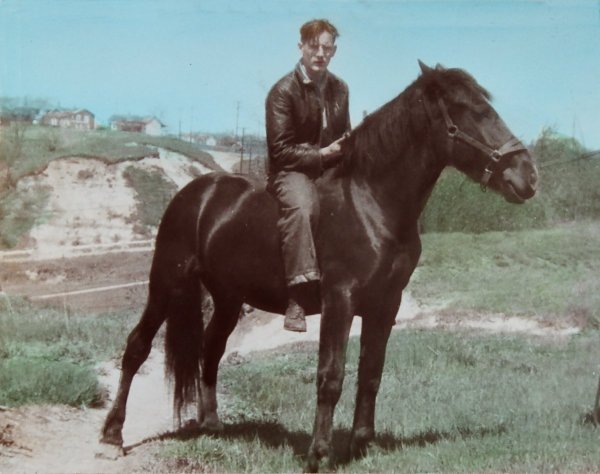 Ron, age 15, on a black horse at the end of Blakley Avenue c. 1944
Photo courtesy of Mary Angela Oresky Cunneyworth
Note the sparcely populated Symes Road ravine and the hilltop intersection of Hillborn Road, Spears and McCormack Streets shown in the background of the above photo.
Mary left the family farm c. May 1, 1948 and returned to her old neighbourhood in Toronto. She stayed with her friend Ivy Proteau at 607 Keele Street for a few weeks, then found a room at another house on the same street (rented from Tony and Marge Unknown).
Ron and Mary became engaged c. July 1, 1948, two months after Mary had returned to the city from the family farm near Rockwood.
Ron and Mary were married in Toronto c. October 1, 1948, at North Runnymede United church.
They first considered having the ceremony at St. Cecilia's Church. They had asked the priest, but he imposed restrictions on the ceremony that were unacceptable and they could not affort the fee for using the church. When they asked to be married at the home of the priest instead, they were refused. The Reverand W. Conning at the United Church, 52 Batavia Avenue, was apparently more receptive to their wishes, so they got married in his home.
Best Man: Norman Clark, Maid-of-Honour: Martha Baker.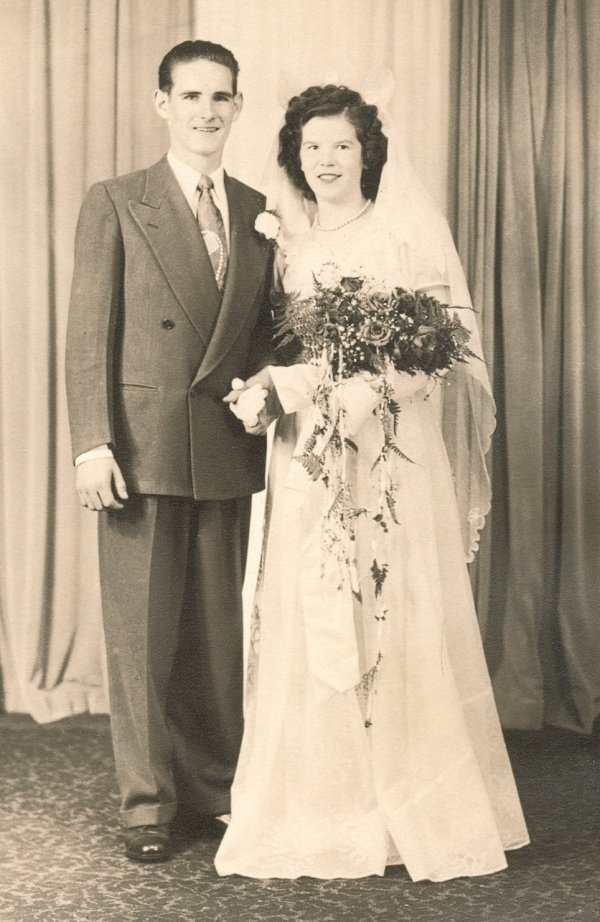 Ron and Mary's wedding c. October 1, 1948
Photo courtesy of Mary Angela Oresky Cunneyworth
After their marriage they moved to the home of friends Martha Baker and her mother Wanda on Indian Grove near Dundas Street. The family lived in various places after that, but mainly in the West Toronto Junction area of St. Clair Ave., between Runnymede and Keele Streets. They spent a couple of years at 318 (320?) Old Weston Road, then about a year with (Ron's brother) Rob and wife Lil at 2355 St. Clair, followed by 2 years with brother Bill and wife Jean at 79 Ennerdale near Earlscourt and Eglington. (Wayne and Allan had their picture taken on a pony at this location in 1954). From there it was back to Rob and Lil's during a short period of family difficulties, then to Clinton Street, before they left Toronto briefly for Bowmanville, where Wayne began school in kindergarten. The children loved their little cottage paradise on the sandy beaches of Lake Ontario, with lots of time for fishing, swimming, playing in the local dance hall, and watching the iceman deliver blocks of gleaming crystal for local iceboxes. Then it was back to St. Clair Ave., across from Canada Packers where the children attended nearby St. Clair Ave. Public School (a classic brick and stone structure built c. 1896, torn down in the 1970s by unnamed, insidious real estate speculators). Cunneyworths, Kellys, Hunts and Cross's were all neighbours in the same block of houses at this time. I have fond memories of a family corn roast in the back yard, an impressive firecracker display on a May 24 weekend and childhood explorations of the Ontario Stock Yards. I recall one spring with dozens of monarch butterflies emerging from their chrysalis' in a small St. Clair park (beside the Canada Packers Laboratory), full of bright red tulips and chestnut trees, a tiny jewel set in the dull crown of an abattoir industrial complex. Around 1957 they moved one block west to 38 Britannia Ave., and from there another block north to the first home that they owned, at 23 Blakely Ave. They lived there until 1970, after I had transferred from York University to the University of Manitoba, when Ron, Mary and youngest son Rob finally left "the old neighbourhood" in Toronto for their new place at 6028 Healey Rd. in Caledon East, just one house away from Airport Road.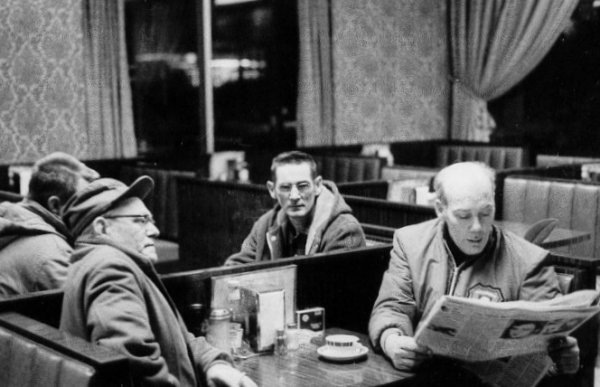 Ron and friends at the Venus Restaurant on St. Clair Avenue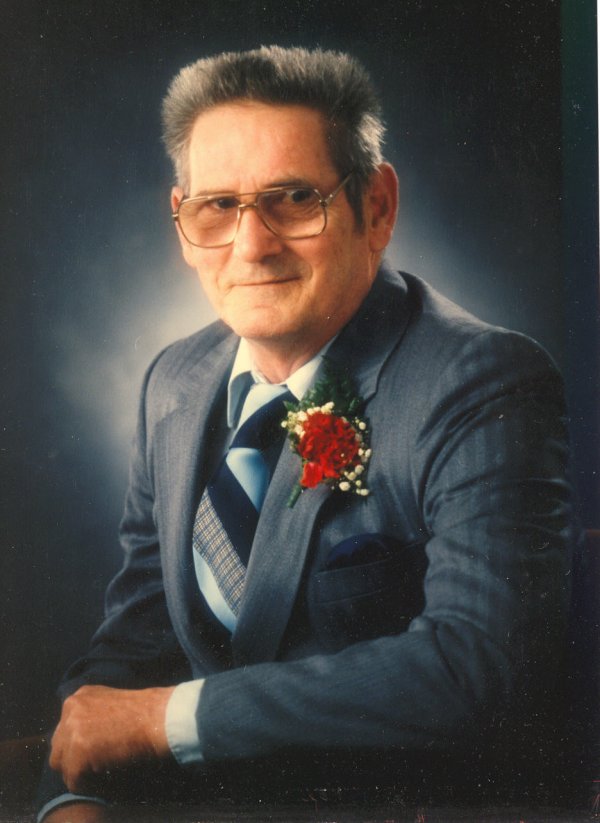 Ron at his retirement from Canada Packers, age 61
Photo courtesy of Mary Angela Oresky Cunneyworth
Mary had several strokes, the first in 1985 at age 55. The first one left her temporarily paralyzed on the left side. After much therapy and determination, she walked again within a year and later worked as a volunteer offering hope to other stroke victims.
Ronald had an operation for lung cancer in his early 60s, after 50 years of heavy smoking, and developed diabetes several years after that.
His cancer returned in 2006 and the doctors estimated correctly that he had about 4 months left, enough time to put his affairs in order and say his goodbyes. Ron passed away after just 8 days at Peel Hospital, in Brampton, Ontario c. February 3, 2007.
Source1: I was at his side when he died, along with my mother Mary, my brother Allan and sister-in-law Janet.
Source2:
Ron's death certificate
.
His obituary reads:
Ronald Henry Victor Cunneyworth
May 24, 1929 - February 3, 2007
Ron passed away peacefully at Peel Memorial Hospital Saturday, February 3, age 77.
Beloved husband of Mary Angela (Oresky), father of Wayne Edgar, Allan Ronald (Janet Howard) and Robert George (Connie Mitchell), "gramps" to Amanda Rae and Amber-Lea Cunneyworth, and to Samantha and Stephanie Schueler, Ron was pre-deceased by his six siblings: Edna May (Glyndwr Hunt), Edgar John (Doris Hackett), Robert Gordon (Lillian Long), William Percival (Jean Budreau), Margaret Ellen (Arthur Cross) and Allan Thomas ([Marguerite] Cowley). He is survived by a loving family, good friends and many shared memories.
Ron was a unique individual and, it's fair to say, a recognizable product of his working class St. Clair Avenue neighbourhood, both now part of Toronto's history. A butcher all his life, he was employed by Canada Packers from age 15 until his retirement. Old school tough and contrary on the outside, he had love in his heart for those who could see it. He was happiest watching horses at the track, reeling in a fish at the end of his line or re-reading a favourite Louis L'Amour cowboy novel. If he could live his life again, he would live out west.
Many thanks to Dr. Clive Wulwik, the staff at Orangeville and Peel Memorial hospitals, his home care givers and all those who offered so much support throughout his life.
A memorial service and celebration of life will be held Saturday, February 10, 2:00 PM, at Acton Baptist Church, 80 Mill St. E., Acton, Ontario L7J 1H6. Those who knew him will appreciate that he would prefer simplicity and smiles rather than a formal, somber service. In lieu of flowers, please consider donations to Acton Baptist Church, or to a charity of your choice.
"There will come a time when you believe everything is finished. That will be the beginning." - Louis L'Amour
It was his wish to have his ashes spread in the Monashee Mountains at
Echo Lake, BC
.
After her beloved husband passed away, Mary stayed in the house on Healey Road, Caledon East, Ontario, not far from her son Allan, daughter-in-law Janet, and a community of helpful neighbours. Unfortunately, that support group was soon devastated by a series of deaths that made it difficult for her to continue living at her home.
In July of 2008, Rob and Wayne bought a mobile home in Cherryville, BC and moved our dear mother to the Cherryville Estates Mobile Home Park on North Fork Road. She lived there for over a year, just a few minutes away from her sons. In 2009 she moved to a retirement complex in Coldstream, a suburb of Vernon, BC. She loved being surrounded by her beautiful mountains, with a library of books just a short walk from her door.
Mary at Lumby, BC, May 1, 2009, with dormant volcano Camel's Hump in the background.

The view from Mary's window at Coldstream Meadows

Mary on her 80th birthday, 2010

Her birthday request was to get on a horse again, for the first time since she was in her 20s.

Mary passed away December 4, 2014 in Vernon, BC.
Source:
Mary's death certificate
.
Her obituary reads:
Mary Angela (Oresky) Cunneyworth
August 16, 1930 – December 4, 2014
Mary passed away peacefully in Vernon, BC, age 84.
She was born in Toronto at the beginning of the Great Depression, the second child of Slovak immigrants, George and Mary Oresky.
In 1943 Mary found herself on a farm in Rockwood, Ontario, keeping house, cooking and minding her younger brother. At the age of 12, she plowed a field behind a Clydesdale named Barney. Life on the farm was hard, but there were good times too. She enjoyed riding draft horses and harnessing them for drives to help her father in the fields.
Mary returned to Toronto at 17 and soon reconnected with her childhood sweetheart Ron. They were married in 1948. After living in West Toronto until 1970, the family moved to Caledon East, just far enough beyond the suburbs for a more sedate country feeling.
After a major stroke and impressive recovery, Mary volunteered to work with stroke patients at St. John's Rehab Hospital in Toronto. As a volunteer with the Peel Association for Handicapped Adults, she organized group tours at Woodbine racetrack, including photo sessions in the winner's circle, blending her love of horses with her passion for helping people.
In 2008, Mary left Ontario for her next phase of life, in the mountains of British Columbia. For her last six years she was happy to call Cherryville and Coldstream her home.
On her 80th birthday she got on a horse again, thrilled one more time, just to relive a fond memory. Mary loved to tell how she and her best friend, Marie McCaig, saw Elvis Presley close up front and centre at Maple Leaf Gardens in 1957. She was a devoted Elvis fan for the rest of her life and celebrated her last three birthdays with live Elvis shows at Coldstream Meadows. A devoted and loving mother, many people outside the family called her "Mom". In her final few days, she was told she was the best mother in the world. Her reply: "Hah! I can do better than that".
Mary is survived by her sons Wayne Edgar and Robert George (Connie Mitchell), her grandchildren Amanda Rae and Amber-Lea Cunneyworth, and Samantha and Stephanie Schueler, her brother John Oresky, a loving extended family and many friends, near and far, all rich in treasured memories. Mary was pre-deceased by her beloved husband Ronald Henry Victor Cunneyworth, her middle son Allan Ronald (Janet Howard) and her older brother George.
Our heartfelt gratitude goes out to the staff of Coldstream Meadows, Vernon Jubilee Hospital and Hospice House of Vernon for all their wonderful support and kindness. A private memorial will be planned for next summer. Mary would be honoured by any donations made to local Hospice societies, Heart and Stroke Foundation or any charity of your choice.
Children: